Official opening of our school's million-dollar makeover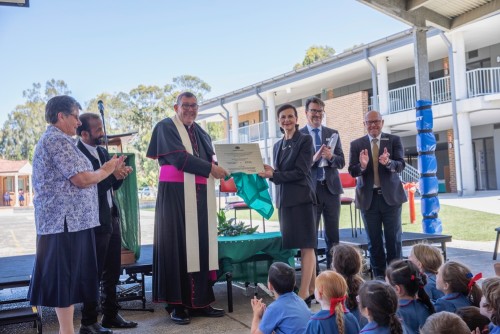 It's cushioned lounges, areas for audio recording and 'charging cupboards' for gadgets in the new 21st century learning spaces at St Pius X – some of the highlights of our new building renovation makeover, which is exciting students and teachers alike.
The new facilities provide modern and ambient spaces where students are able to learn in a diverse range of settings that incorporate flexible classrooms with breakout areas extending to airy outdoor zones.
The modernised buildings – which comprise eight learning areas – were unveiled with an official blessing on November 7, and the response from the entire school community has been overwhelmingly positive.
"The new classrooms are spacious and modern," said Year 6 student, Thomas. "They have allocated areas for iPads and laptops in the charging cupboards, and a wide range of different desk combinations letting us change the layout when needed."
As part of the renovation, breakout rooms also offer opportunities for focused and quiet time or when working in small groups. "These rooms help when we are completing a task that requires us to have clear audio recordings," said Thomas.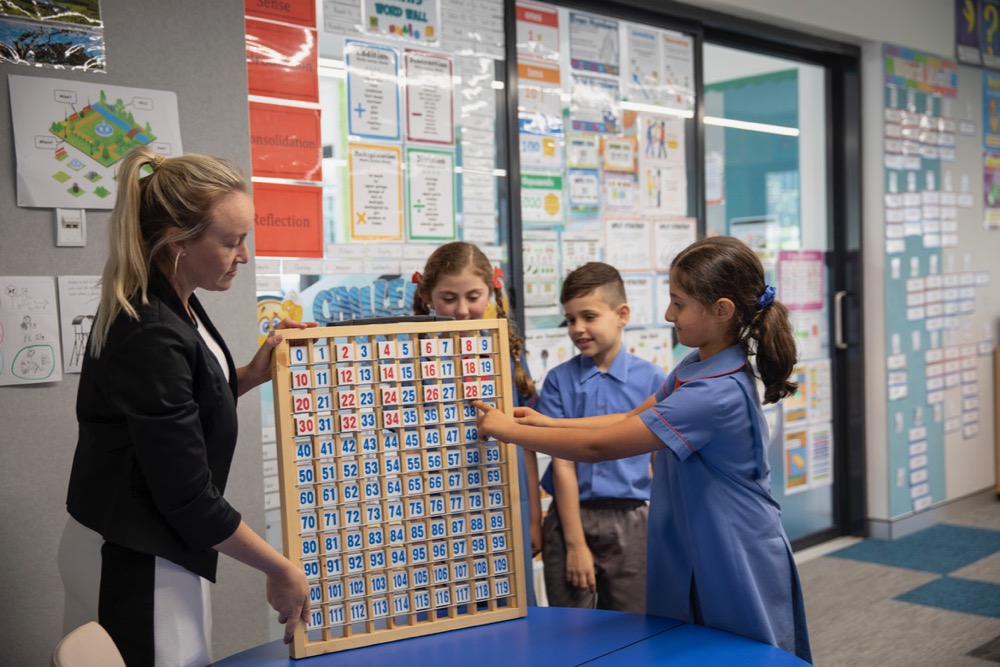 "All classrooms have double-panelled whiteboards that open up for easy access to televisions for air-playing and media usage. I also like the sliding glass doors [between the classrooms] that allows us to easily move between rooms when we are working on group tasks" — Thomas, student
At the unveiling, distinguished guests Bishop of Wollongong, Most Reverend Brian Mascord, NSW Senator, Concetta Fierravanti-Wells and Federal Member for Cunningham, Sharon Bird MP, were on hand to celebrate.
The ambitious project was possible due to $1.3 million in funding from the Australian Government under the Capital Grants Program which provides funding to non-government school communities to improve infrastructure.
The project was also supported by more than $2.5 million from local contributions to cover the overall $3.85 million project cost. This means contributions of parents across the Catholic Education Diocese of Wollongong (CEDoW) system of schools has funded more than two-thirds of the total cost.
"It's a privilege to stand here and with great gratitude today," said Principal Philip Moore, who publicly thanked the Federal Government for their grant contribution. "When I returned [to the school] after a 6 month break, it took some time for my jaw to come up off the ground to see the fantastic facilities we now have."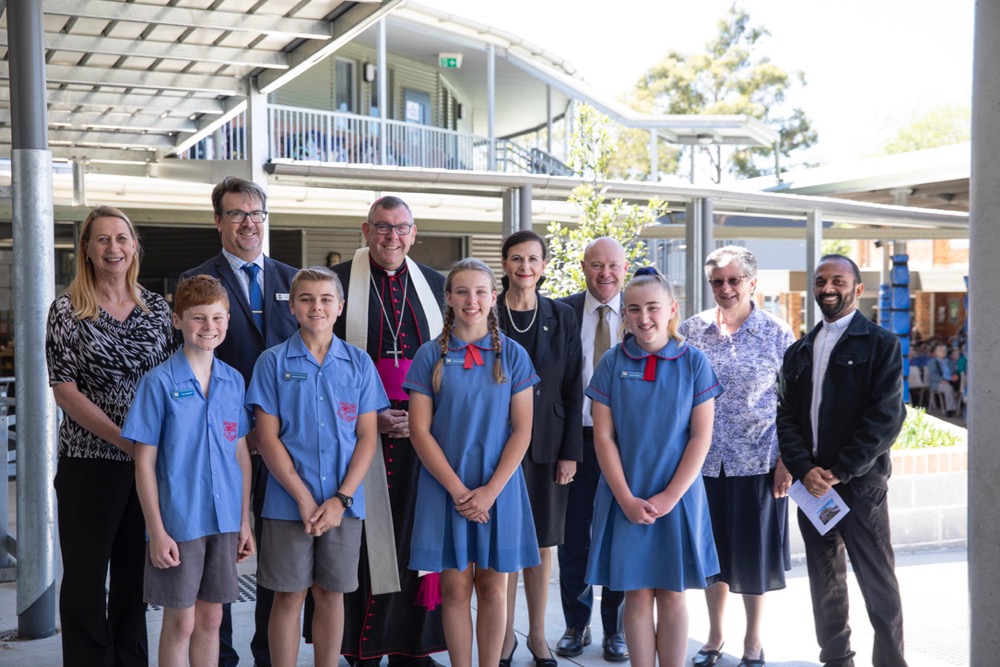 The facilities provide learning spaces for up to 240 students, with the bottom level – which has access to outdoor courtyards – accommodating Years 1 and 2 students. The upper level provides flexible learning for Years 5 and 6 students, including the addition of a 'makerspace area' to encourage collaboration as the students engage in Science, Technology, Engineering, and Mathematics (STEM) learning activities.
Intensive teaching areas adjacent to the general learning areas will support the diverse learning needs of students, allowing for the teaching of Stretching Potential through Learning in Interactive Challenging Environments (S.P.L.I.C.E.D) programs – an initiative aimed to challenge students seen as gifted. It will also house facilities for speech pathology.
Furthermore, breakout rooms are fitted to facilitate​ programs for students who require additional literacy support.
"My new classroom is bright and colourful," praised Year 2 student, Thomas. "I really like the shape of the classroom which lets us move around more than the old classrooms. The outside areas are cool because I can do small group work without too much noise and, learning outside, we can get fresh air and feel safe."
In each space, care was taken to consider acoustics, temperature control, adequate storage, writable surfaces, large digital screens, Wi-Fi saturation, an abundance of natural light and appropriate colour palettes to promote student engagement.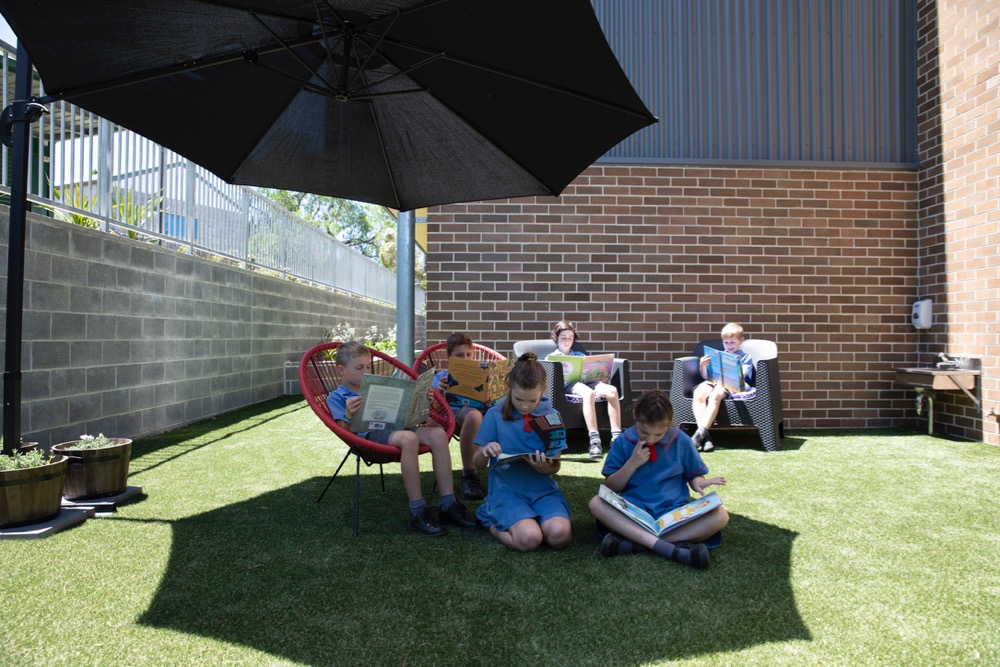 Mr Moore extended a vote of thanks to CEDoW School Properties Office staff including Schools Properties Officer, Brendan Luckman, for his expertise and strong desire for St Pius X to have a quality building that reflects the educational needs of this community.
He also acknowledged Alex Schouten and Quinn O'Hanlon Architects for the quality of their work and New England Constructions for building and providing a state-of-the art learning facility.
"We were engaged to reimagine the future physical development of St Pius X in light of the school and parish history, the site flood conditions and the changing pedagogies of 21st century learning. These spaces will provide a platform for teachers to transform the St Pius X learning environment by encouraging innovative teaching and learning practices" — Terry O'Hanlon, Director of Quinn O'Hanlon Architects
Special guests from CEDoW, Immaculate Conception Parish, notably our parish priest, Fr Duane Fernandez, students and staff, past and present also joined the community for the opening.
"Modern facilities like these not only improve the school's physical environment but also reinforce and nurture its learning culture," said CEDoW's Head of Finance, Facilities, ICLT and Planning, Bede Ritchie, who thanked the collaborative effort of staff, parents, students, the CEO, the parish and wider community.
"But buildings alone cannot provide the vision and passion that guides a school's development. It is the human spirit and community interaction that makes the difference, allowing the buildings to do the rest."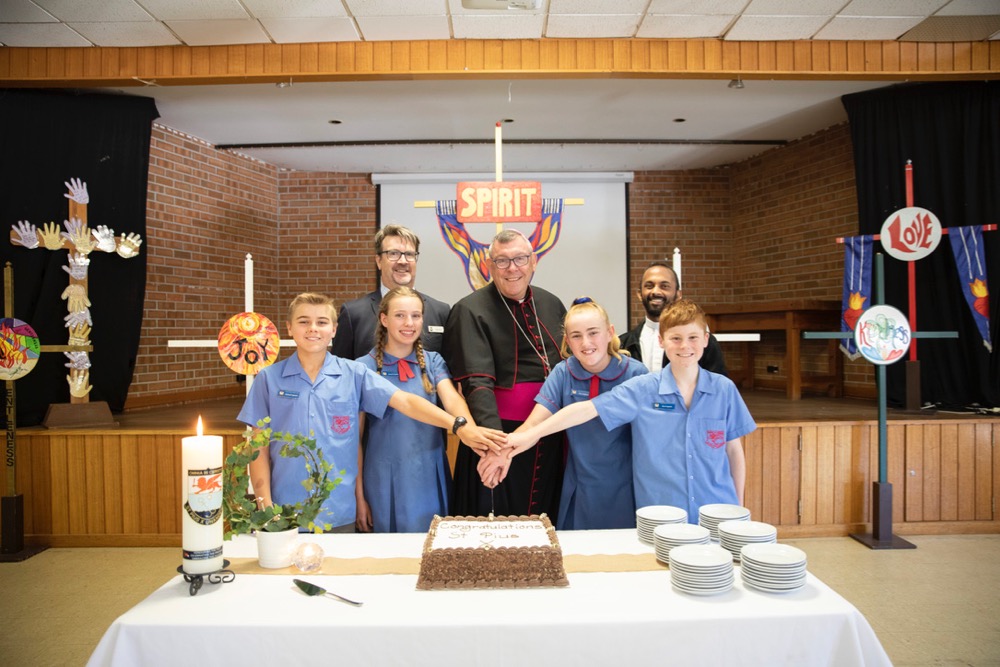 ---
Photo Gallery of the official opening and blessing